Shipping & Returns
Shipping Policy
Most orders placed before 2PM EST will ship same business day.
If the order is unable to be processed and shipped the same day and is listed as "In Stock" the order will be shipped within 24-48 hours from time of order. All orders placed on Friday will be shipped Monday or the next business day if a holiday is the next day.
All Special Order pieces will be shipped upon arrival of the product or as requested by the purchaser.
Any orders placed over the phone and paid by check, cash, or money order are not subject to the listed quantity of product at the time of order. It is subject to the listed quantity at the time payment is received.
Saturday delivery is only available upon request. For Saturday delivery please contact us at 800.513.8554.
Customers have 3 business days to report any missing or damaged parts from date of receiving any merchandise.
Shipping Time is calculated in BUSINESS DAYS, and does not include Saturdays, Sundays, and/or FEDEX/USPS shipping holidays.
All photos, descriptions and content written or described on this site are for informational purposes only and may vary slightly from the products shipped.
All "Transit Days" are US Business Days and do not include holidays or weekends.
Satellite Radio Superstore provides tracking information (including a tracking number) as a service to our customers. Satellite Radio Superstore has no control over the delivery of packages and the status of shipments once they are picked up from our warehouse. By purchasing from our website you agree that once an order has shipped from our warehouse and picked up by the carrier, that carrier is responsible for the delivery and status update of the shipment.
Satellite Radio Superstore is not responsible for any packaged that have been marked as delivered by the carrier that are lost, stolen from the delivery location (this includes porch pirated packages) or delivered to the wrong address by the carrier. All inquiries related to these situations must be directed to the carrier (FedEx, USPS, etc.) for resolution.
Satellite Radio Superstore is not responsible for refunds due to shipping delays caused by weather, acts of God, natural disasters or when carriers suspend delivery time guarantees.
For shipments that are lost in transit and not marked as delivered by the carrier please contact our offices so we can assist in filing a claim.
Satellite Radio Superstore reserves the right to refuse any order for any reason.
Return Shipping Policy
All orders can be returned for full credit of the merchandise within 30 days of purchase. The following guidelines must be met for consideration of return:
Must contact our offices within 30 Days of date of purchase.
Must have a valid Return Authorization Number. To get a Return Authorization Number please contact our offices at 407-657-8777.
Equipment must not be altered or tampered with in attempts to modify circuitry.
The box must have the UPC on the box (not have been cut off) and the box not damaged or cut.
Returns must be made in original condition; items received back damaged will not be accepted.
Merchandise initially shipped 'double-boxed' must be returned to Satellite Radio Superstore in like fashion.
Satellite Radio Superstore will not warranty any item that has been damaged by the customer.
Customer has 3 business days to report any missing or damaged parts from date of delivery.
Customer (purchaser) is responsible for all return shipping regardless of reason for return. We recommend placing insurance on return shipments. Satellite Radio Superstore is not responsible for any lost or stolen return packages.
All refunds are minus paid shipping costs to the carriers (FedEx and USPS), including orders with free shipping.
Credits will be posted to the appropriate account within 14 business days of receipt of equipment.
Packages should be mailed to the address below with the Return Authorization on the outside of the box.
Return Shipping Address:

All Returns - 1372 N. Goldenrod Rd Suite 22 Orlando, FL 32807
Contact & Office Information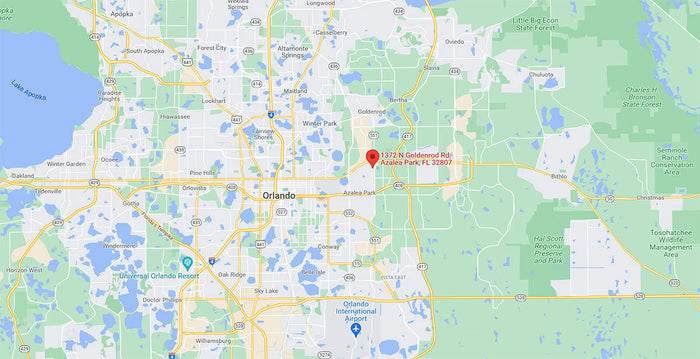 Office Location:
1372 N. Goldenrod Rd. Suite 22
Orlando, FL 32807
Phone: (800) 513-8554
SMS: (321) 304-3774
Email: contactus@satelliteradiosuperstore.com
Hours:
Monday - Friday 9:00 AM - 5:00 PM
Eastern Standard Time.